Now comes the season of the woolly bear migration. Or, rather, The Great Woolly Bear Dispersal, since they are all crossing the roads, but about equally in opposite directions. Just now coming back over the hill from the supermarket at thirty miles per hour, I watched carefully not too far in front of my car for small moving things and swerved this way and that way so as to avoid squashing any of the little guys. At one point I was faced with a Sophie's Choice -- one caterpillar heading east, the other heading west, and in such proximity to each other that if I saved one, I would obliterate the other. The only thing I could do: I stopped the car until they were out of my path. I'm glad there was no one driving behind me. I have seen bumper stickers that say, "I brake for fill in the blank" but none of them say "...woolly bear caterpillars." If there is one, I should avail myself of it.
I have stopped picking tomatoes. I feel a little guilty about that, but I can pick no more. Husband has noticed the abundance of red globes remaining in the garden, and has brought in his own piles of the things.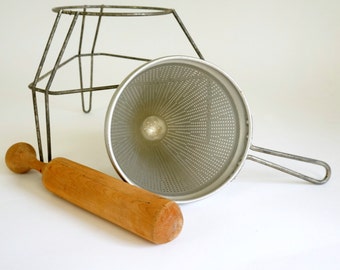 He is making fresh tomato juice, a monumentally delectable item that I have never tasted before. It involves the food mill, and lots of patience. Too much fiddling for me; I just want to get to my book. But he doesn't mind, and I am glad to do the Wifely Praise part of the operation. The Wife Rule Book again, you know.
The soapstone stove's installed and operational. Notice, please, that we ordered it in brown metal rather than black. My choice because the brown is just about the same color as the ash and dust that will inevitably accumulate on the thing. Once it's rolling for the season, it will be too hot to dust or wash, so we might as well have it filth-colored to begin with.
Sweet Young Thing, my new morning boss, is still a refreshing change from Jane the Tyrant. I do find, howsomever, that she is one of those who get their talking points and marching orders from Rush, Sean, and Glen.
"...all those people who are making us the minority!"
"The only reason Obama got elected was that he got all the blacks and Puerto Ricans to vote."
I wanted to say, "HOW DARE THEY!" but I did not.
I foresee June keeping her mouth shut in the area of political discussion. Friday morning I came about as close to getting into it as I hope ever to do. New Boss was lamenting the abundance of other-than-Caucasian students at the local college. She went on with such . . . vigor . . . about other cultures ruining "ours" that I finally asked, in a mild and curious tone, "I wonder why our culture can't withstand that influence?"
A pause, and then: "I don't know."
"Well," I said, "maybe it'll make you feel a little better to know that four of them were just murdered in Guilderland."
"Oh! That! That was terrible! There were children!"
I have yet to nail down the age at which but what about the children! cuts off and veers into . . . distaste, o
r how long people have to be in this country before they're acceptable
.
Okay. Enough of that incendiary writing. Back to the safely prosaic.
Molly had fresh rabbit for breakfast this morning, and eschewed her kibble as a result. It's good she doesn't want to overeat. She took the bunny leftovers to the garden and hid them. Husband walked down to see if he could see how much was left. I watched the two of them from the upstairs bedroom window and saw Molly pretending the hiding place didn't exist ("Let's go down this way, Dad!") and Husband looking, looking, as Molly stood by, her tail wagging feebly, apparently hoping he would not find and steal her cache. He did not find any evidence of bunny remains and the two of them returned to the lawn with one of them vastly relieved.